WordPress Hosting
Trusted by over 10,000,000 websites in Vietnam!
Dedicated Hosting.
We develop our hosting system for WordPress. Serve all needs of WordPress. Your website will be accelerated many times with Litespeed Cache technology. Automatically backup data in 7 days with Jet Backup. Fight against DDoS attacks with a two-layer firewall. Uptime 99.9%.
Speed up 5 times with Litespeed Cache
Secure data with Jetbackup
Fight against denial of Service Attacks with DDoS Protection and Hardware Firewall
Fast transmission with servers in Vietnam
Performance
Speed up the access with Litespeed Cache.
Litespeed Cache is a feature that is specially designed at Web Server Litespeed for WordPress.That helps speed up your website many times and is compatible with WordPress, WooCommerce.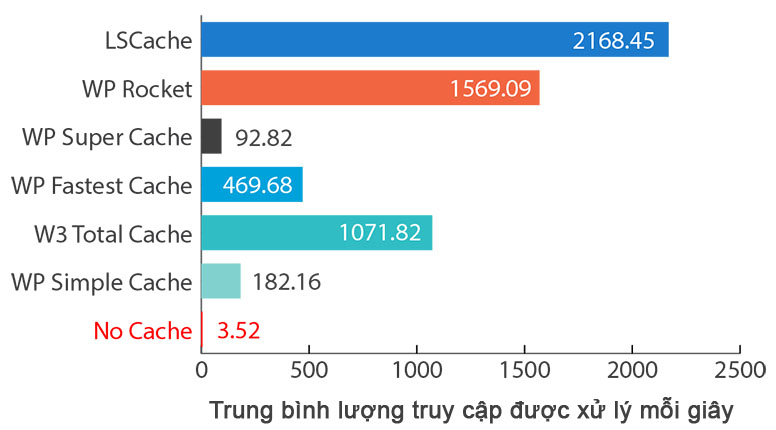 Higher is better
Litespeed Cache(LScache) outperforms other Wordpress cache technologies.
Cache support for Pages, Posts of WordPress.
Be compatible with WooCommerce, Sales Website WordPress platform.
Support
We are Vietnamese.
All 123HOST staffs are Vietnamese. We support customers in the English language, 24/7. Therefore, when using 123HOST's services, you not only get high-speed hosting but also fast support.
Technical Support
24/7
including holidays
Initialized
> 10.000
hosting accounts
With
> 7 years
Experience
Vietnam location
Fastest Transmission.
123HOST's hosting servers are located in Vietnam. Website loading speed and website resources will be faster many times than servers located abroad.
Don't worry about fiber optic cable breaks slowing down the website.
Avg Ping
7.6 ms
From Vietnam network
Ping faster
7 times
Compared to Singapore location
Ping faster
30 times
Compared to the US location
Absolute protection with DDoS Protection.
Your website will be protected by two layers of Web Anti-DDOS (layer7) and Hardware Firewall system (layer 4) of 123HOST.
Web Anti-DDOS is an anti-DDOS attack technology for websites developed by 123HOST. When there is an attack, the system will automatically turn on the filter, keeping your website safe 24/7.

High security with secureFolder.
You can lock folders and data on your hosting to prevent malware from changing the website content.
This is an advanced security technology, developed by 123HOST and exclusively for 123HOST's customers.
Secure data with Jetbackup.
You will not have to worry about data loss because we have a system that automatically backs up this data.
Freely restore data, download backups to your computer right in the cPanel interface. Support backup both source website and Database.
Uptime 99.9%
All of our hardware and software technologies help the system to operate stably. Your website will be accessed continuously 24/7. Data is absolutely safe.
Reviews from our customers
Many customers are using it and are satisfied. Let us be at your service!
Nguyễn Ngọc Châu
Enthusiastic team and Sales staff (Ms Ha) are very supportive.
Đào Như Nguyện
The service is good, the sales staff has supported me enthusiastically.
Nguyễn Bá Duy
Service quality is very good. Staff advise and support me very enthusiastic. Trust 123host for a long time. Thanks
Nguyễn Tấn Thịnh
Support staff very enthusiastic.
Thang
Been using 123HOST's WP Hosting service for 2 years. Good quality. Litespeed is technically consulted to configure the parameters, so the site load speed is fast, meeting the requirements. During the time of use, there is sometimes a few minutes of downtime, but it is not significant. Technical setup once, then there is no error to contact. Business is friendly, prompt debtors enthusiastically, in due time, proactively notify customers to avoid being suppend. Closing: The service is worth the money, well worth considering to use.!
Choose 123HOST for your website to be efficient, safe and stable