cPanel & WHM is the most popular Linux-based web hosting management software. In addition, cPanel has features that are powerful and suitable for those who manage Website, Hosting, Cloud VPS, and Servers.
cPanel uses 3 different management levels such as root/admin, reseller, and hosting account for end users.
cPanel & WHM Price List.
cPanel Admin Cloud
$34.39 / month
---
5 hosting accounts
Supported Platform: Cloud VPS
Order now
$51.58 / month
---
30 hosting accounts
Supported Platform: Cloud VPS
Order now
cPanel Premier
$77.38 / month
---
100 hosting accounts
Supported Platform: Cloud VPS, Server
Order now
cPanel & WHM software license is only sold and activated for IP addresses of the server/cloud/colo service plans at 123HOST.
FEATURES OF CPANEL
FOR CUSTOMERS (END USER)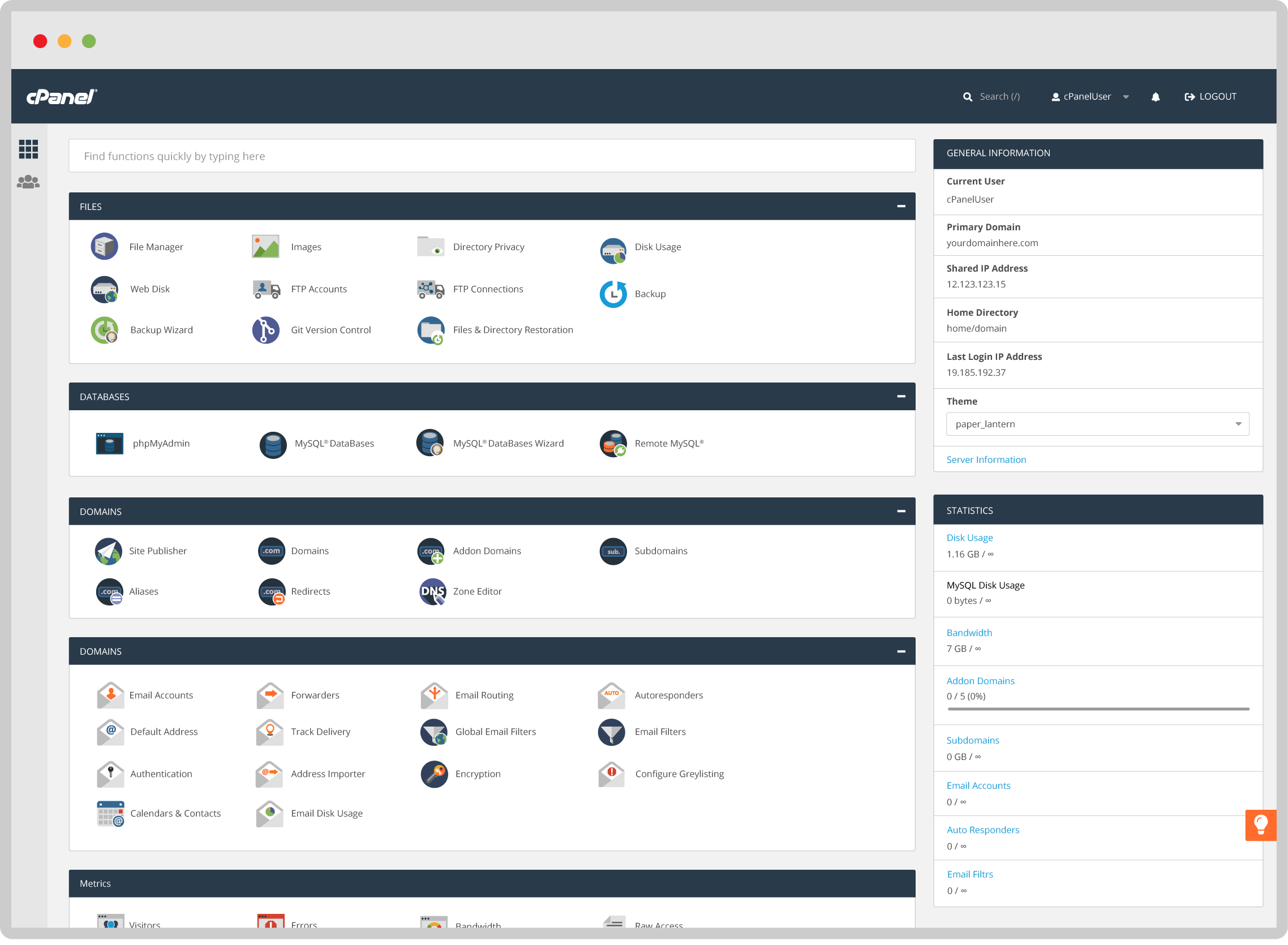 Easy to Manage Email
cPanel allows you to create email accounts, reply and forward emails automatically. Help manage emails completely with your cPanel account and cPanel user-level filters. In addition, cPanel completely prevents spam with Apache technology, SpamAssassin, BoxTrapper, even email authentication.
Absolute Security
With cPanel's comprehensive security, you can configure password-protected folders, SSL/TLS, deny IP addresses, and install GnuPG to restrict access. Learn how to protect your website with ModSecurity, Leech Protect, and HotLink Protection.
Install and Manage Domain
Help you identify Websites easily with Simple DNS Zone Editor and Advanced Zone Editor. Help you set up subdomains, parked domains, add-on domains and redirect them all to your visitors.
Rich and exclusive applications
Allow you to use application stores from 3rd parties to support the management, configuration, or editing of the Website. Besides that, cPanel's application supports e-commerce website platforms, forums, even Blogs.
Data owned by you
cPanel helps you closely monitor data resources while editing and backing up files or folders, monitors used bandwidth, and allows you to limit access and store huge amounts of databases.
FEATURES OF WHM
FOR ADMINISTRATORS (ADMIN)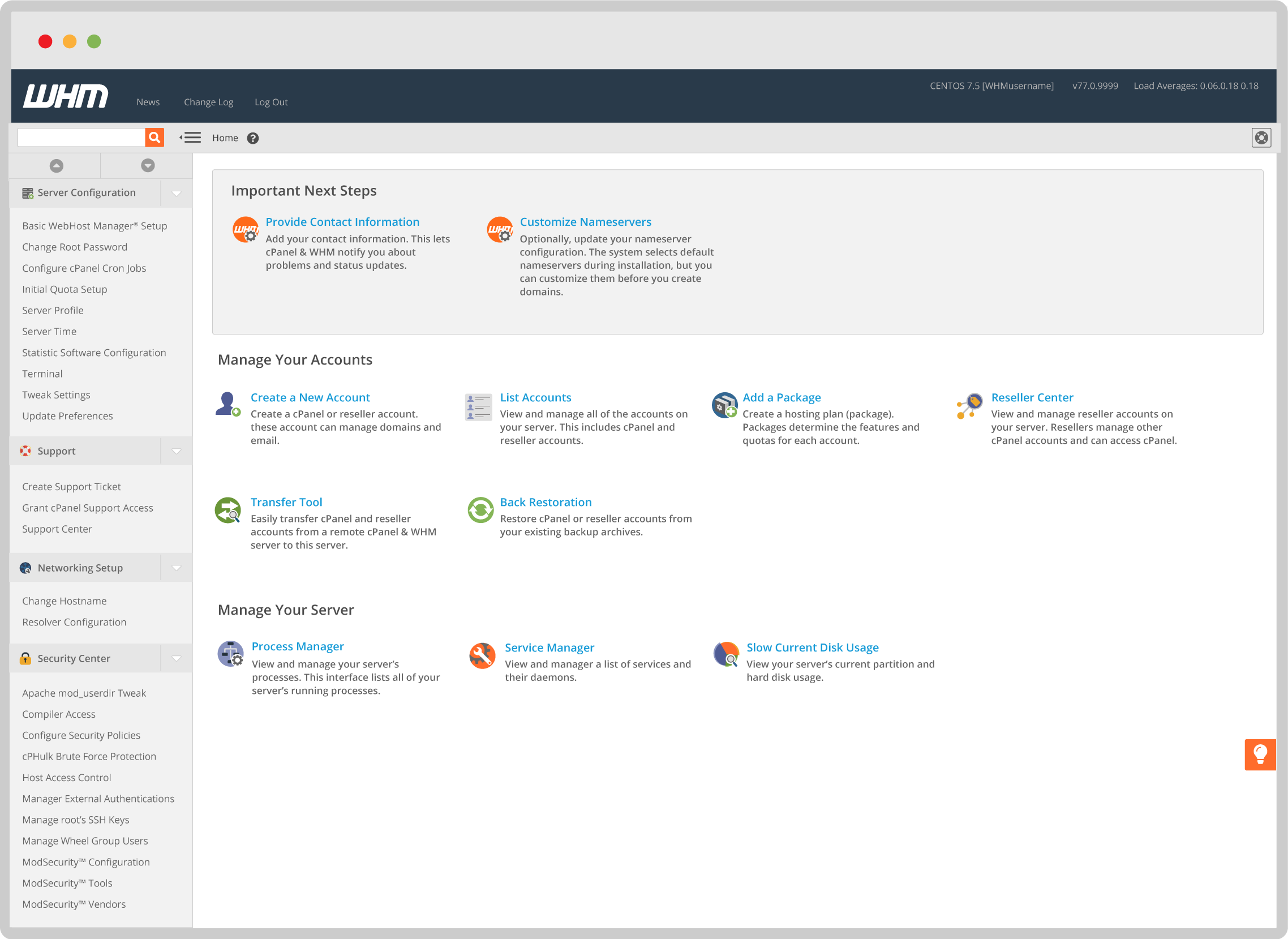 Easy to Manage Email
With WHM, you will be able to create and manage user cPanel accounts, allow your clients to manage their personal websites, as well as set your own price.
Absolute Security
With WHM, you get the most comprehensive protection and security on the market. You'll also receive updates on your server, as well as real-time analytics designed by the developers.
Comprehensive Monitoring
WHM's server monitoring tools will let you know what's going on with your server at any time of the day.
Data Backup Continuously
You'll never have to worry about losing information with automatic backups of all your data. The experience of transferring information between servers installed on your cPanel will be easy and seamless from A to Z.
Exclusive Experience
Get permission to use WHM's unique ancillary features and tools to provide your customers with a great experience.
The brand is yours
With WHM, you will be able to endorse your own brand, color, or image with your style.
FAQ - FREQUENTLY ASKED QUESTIONS
I'm using Directadmin, can I switch to cPanel?
cPanel has a toolkit that supports automatic conversion from Directadmin to cPanel.
When I need technical support, how do I contact 123HOST?
With the use of the cPanel copyright software service of 123HOST, Having problems with your service will be minimized. However, if you still want to meet 123HOST's technical team for help, you can watch more channels. Support here
I don't know how to install cPanel & WHM, What should I do?
If you do not know how to install cPanel software on Cloud VPS or Server, our 123HOST's technical team will provide you some documentation and guide you to install it.
Do cPanel & WHM have a Vietnamese interface?
cPanel & WHM support Vietnamese interface