Domain name registration service
Discount 10%
.com
New Registration
$14.21
/year
$15.74/year
Discount 19%
.vn
New Registration
$32.06
/year
$39.47/year
Only at 123HOST
Search domain names
following the price
Use the domain search engine following the price, and save your cost.
Learn more
See beautiful domains
that have just expired
List beautiful domains that just expired today based on Big Data and AI platforms.
Coming soon
Auto Payment
activate domains now
Record the transfer payment in 30 seconds. Automatically activate domains in 1 minute.
Learn more
Domain Pricing
Most Popular
Be suitable to be a main domain for projects or companies
TLD
Order now
Renew

Sale

.com

$14.21


$15.74
$15.74
.vn
$36.84
$22.05
.com.vn
$32.11
$17.26
.net
$18.42
$18.42
.edu.vn
$25.79
$13.68
.org
$18.42
$18.42
.info
$31.58
$31.58
Lowest Price
Be suitable for cost-saving criteria
TLD
Order now
Renew

Sale

.com

$14.21


$15.74
$15.74

Sale

.vn

$32.06


$39.47
$39.47

Sale

.pw

$4.74


$48.42
$48.42

Sale

.fun

$5.26


$36.32
$36.32
The most powerful domain search engine.
123HOST provides the most powerful domain search engine .That helps you choose a domain with many different criteria such as Important Domains, Popular Domains, Promotional Domains. Even that, You can filter domains following the price.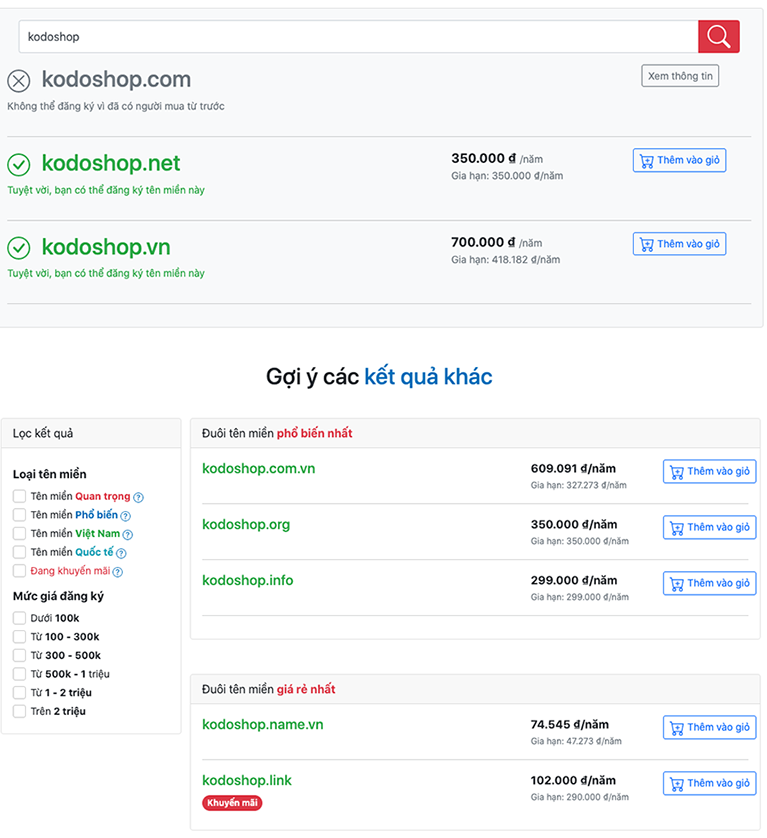 Auto Payment & Auto Registration
After receiving the payment, the domain will automatically be registered and you won't have to wait too long (*).
When transferring the payment via internet banking or banking application, you just need to enter the invoice number in the payment content (*), 123HOST's auto-payment technology will automatically recognize your invoice and record your payment right now.
(*) Vietnamese domain names need to provide a declaration according to VNNIC regulations before being activated.
(**) The invoice number will be displayed after you complete the domain registration.
Reviews from our customers.
Many customers are using it and are satisfied. Let us be at your service!
Nguyễn Dũng
Kỹ thuật hỗ trợ 24/24, trả lời ngay lập tức dù là nửa đêm đăng ký domain
Tran Hoang An
khá ổn
Đoàn Gia Bảo
Very good!
hap
Ờ mây dinh, gút chóp 123host...
Lê Thanh Nhàn
Great customer support
Đặng Quang Hiển
Chất lượng tốt. Nhân viên hỗ trợ nhiệt tình. Thanks!
Trần Đạt
Có nhân viên hỗ trợ suốt trong quá trình sử dụng nên tiện trao đổi, đội ngũ kỹ thuật hỗ trợ qua email cũng khá nhanh
Phạm Tuyên
Rất hài lòng với dịch vụ tên miền.
Register a domain right now